Last week, one of my customers pointed me to an article on Search Engine Land, titled: "The rise of personal assistants and the death of the search box".
Google's Behshad Behzadi explains why he thinks that the convenient little search box that sits at the top right corner of nearly every page on the web, will be replaced. The article was written by Eric Enge and of course interpreted by him.
"Google's goal is to emulate the "Star Trek" computer, which allowed users to have conversations with the computer while accessing all of the world's information at the same time."
I think that's a great goal, and these things could be happening in the not to distant future. Of course we all now Siri, Cortana and Google Now, so this is not so hard to image. Below a timeline about the growth of Google.com: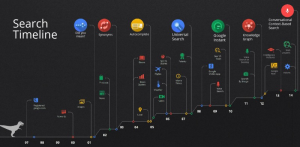 At this time we are talking more and more to our computers. For most people it still feels weird, but "It's becoming more and more acceptable to talk to a phone, even in groups."
So… search applications are getting to know our voice and the way we speak is the way we search.
That demands a lot from search engines. They need to get more intelligent to be able to interprete the questions and match them with a vast amount of possible answers hidden in documents, knowledge basis, graphs, databases etc.
When having found possible answers, the search application needs to present the possible answers in a meaningful way ánd get a dialog going to be sure that it has interpreted the question right.
This future got me wondering about "enterprise search". All this exciting stuff is happening on the internet. Search behind the firewall is lagging behind. The vast information and development power that is available on the internet is not available in the enterprise.
An answering machine needs to be developed constantly. Better language interpretation, more knowledge graphs (facts and figures) to drive connections, machine learning to process the queries, the clicks visitors perform, other user feedback etc.
The question is if on-premise enterprise search solutions can ever deliver the same experience as the solutions that run in the cloud. It's impossible to come up with a product that installs on-premise  and has the same rich features that Google is delivering online. One could try, but then it's the question if the product can keep up with the improvements.
So with the "death of the search box", will this also lead to "the death of the on-premise search solutions"? Google is dropping support for their on-premise search solution, the Google Search Appliance, for a reason. The way to the cloud and personal assistents is driving that.