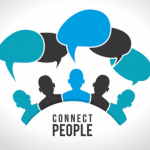 Today I read "Will Intranets Disappear With the Rise of the Bots?". The author writes about how "old" intranet were all about one-way communication and providing essential content.
But:
"Intranets designed and built around document libraries, one-way communications and links to deeper knowledge are no longer the proud, highly esteemed centerpieces of old".
According to the article this doesn't cut it in this time anymore. Doing business and work nowadays asks for more fluïd information, fast two-way communication etc. to support decision making and innovation:
"A functioning intranet has become more about people: Finding people, interacting with people, building relationships and networks." and "Decision making needs and the drive to improve the customer experience require a more fluid and faster intranet than one that is essentially a library".
The article goes on about bots and how those bots will assist us in getting answers to common questions and helping us with doing simple tasks.
While reading this I thought to myself "But what with the ever-present problem of capturing tacit knowledge"? The goals of Knowledge management are to get the right information to the right people (of proces) at the right time, basically to achieve "doing the things right the first time". There are two important use cases for managing knowledge:
To make sure that

new people

that join the company know what the company has been doing, what works/worked and what (has) not, where to get the information they need. Simply to make them productive as quickly as possible.
To make sure that the company is doing the right things right. Think about R&D and product/business development. It makes no sense to develop products you already have or to to research on a topic that has been covered in the past and from which the outcome is already known.
So when the author says:
"Knowledge is instantly available, discussed, shared and fully used in the time it takes to add metadata to a document"
and connecting people in a social environment is more important than securing information for future reference, we risk asking the same questions to people over and over again. Also, when experienced people leave the company the existing knowledge will leave the company with them. Connecting to people also poses the risk of getting them out of there current process to. This can lead to lower productivity because of the constant disturbance of notifications, instant messaging etc,
So, I still believe in "document libraries" with high quality information and data that any employee can access and use when ever he or she needs it. We simple need to manage the knowledge, information and data so that it is readily accessible.
When the article speaks of "bots" in that context I translate that to "a fucking good search engine" that understands what's important and what not (in the context of the user/question). Enterprise search solutions also have the ability to provide pro-active suggestions to relevant content (research, people with knowledge). It all depends on how deep you want to integrate different technologies.
So, connecting people remains important in a company. But for a company to survive for a long time, it needs to secure it's information and "knowledge". Surely we need more smart solutions to connect people to content, content to content, content to people and people to people.