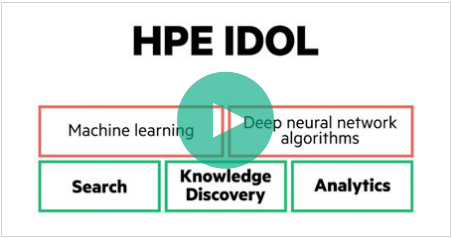 With all the rumble about Solr, Elasticsearch and other search vendors like Coveo, Attivio one could easily forget about that long existing behemoth in the (enterprise) search niche: HPE/IDOL.
IDOL stands for "Intelligent Data Operating Layer" and is a very sophisticated big data and unstructured text analytics platform and has been around for more than two decades.
HPE is stil investing heavily in this technology that consists of a very rich ecosystem of modules:
connectors
classifiers
taxonomy generators
clustering engine
summarization
language detection
video and audio search
alerting (agents)
visualization (Business intelligence for human information (BIFHI))
DIH/DAH for distribution (scalability) and mirroring (availability) of content and queries
Recently (december 2016) HPE added machine learning and Natural Language Procession to the capabilities.
IDOL can be used for knowledge search, e-commerce search, customer self service search and other use cases that require fast, accurate and relevant search.
Next to the "on premise" solution, HPE also enabled the IDOL platform to be used in the cloud with a range of services: Haven OnDemand. With this platform developers can quickly build search & data analytics applications. There are dozens of API's available, amongst them:
Speech to text
Sentiment analysis
Image/video recognition
Geo/Spatial search
Graph analysis
So IDOL is still very much alive and kicking!
Looking for a specialist that can support you with first class search and text analytics based on HPE IDOL in the Netherlands? KnowledgePlaza Professional Services is a fully certified HPE Partner.