The History
It was the year 2005 when Google decided that they could use their superior search to make information in enterprises/behind the firewall searchable.
That year Google released the Google Mini. A cute little blue server, pre-installed with the software from Google.
The Mini could index up to 300.000 documents. The functionality was limited, but great in crawling webbased content, just like Google.com did. The Mini was mainly used to index intranets and public websites. That was in the time before Google introduced Site Search as a product. The Mini did not have features like facetting and connectors to crawl documents from sources other that websites or databases.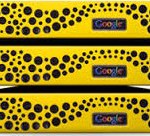 Google must have realized that the Mini could not fulfill the Enterprise search demands (many different content sources, need for facetting, changing the relevance, need coping with millions of documents etc.) so they released the Google Search Appliance.
The first versions of the GSA were very similar to the Mini. They added some connectors, facetting, morriring and API's to manage the appliance.
One important feature was the ability to scale to millions of documents, distributed over several appliances. The limit of the number of documents one appliance could index was 10 million.
The proposition of the GSA shook up the enterprise search market. Management of the GSA was easy and so enterprise search became easy. Or so at least it seemed. "Google knows search and now it is bringing their knowledge to the enterprise. We can have search in our business as good as Google.com". NOT so fast, there is a big difference in search on the web and search in the enterprise (read "Differences Between Internet vs. Enterprise Search").
In 2012 Google pulled back the Mini from there offerings and focussed on selling more GSA's and improving the Enterprise capabilities. I assume that the two are not that different at all and there could be a lot of more money to be made with the GSA.
After that time more energy was put into improving the GSA. After version 6 (the Mini stopped with version 5) came version 7 with more connectors and features like Wild Card search (truncation with '*'), Entity Recognition, Document Preview (Documill) etc.. Minor detail is that the OOTB search interface of the GSA was never improved. It reflected Google.com back in 2005.
The last years it became clear that Google didn't know what to do with this anomaly in it's cloud offerings. The attention dropped, employees were relocated to other divisions (mainly Google Apps and Cloud) and the implementation partners were left to their own when it came to sales support. There was not much improvement in adding features.
Beginning 2015 Google re-vamped the attention and dedicated more resources to the GSA again. It was clear (at that time) that the profits for the GSA are good and could even be better. Better sales support was promised to the partners (global partner meetings) and sales went slightly up. In 2015 version 7.4 was released with some small improvements but with a brand new connector framework (Plexi adaptors). Several technology partners invested in developing connectors to support this new model. Small detail was that the new connector framework relied heavily on the crawling by the GSA and the adaptors beeing more like a "proxy". The old connector framework was pretty independant of the GSA by sending full contents of documents to the GSA. (since the open source character of the connectors other companies started to use it in theire own offerings, like LucidWorks using the SharePoint connector).
I've been working with the GSA for a long time a I must say that the solution made a lot of customers happy. The GSA really is easy to administer and the performance and stability is near to perfect.
On Thursday February 4th 2016 Google sent an e-mail to all GSA owners and partners stating that the GSA is "end-of-life". Google will continue to offer support and renewals until 2019, but no innovation on the product will be done anymore. This came as a blow to the existing customers (who have invested a lot of money very recently) and the partners.
Google doesn't have an alternative for enterprise search yet. It must be working on a cloud offering for that. It will certain be able to search through Google Drive (duh..) and some cloud services like Sales Force, DropBox, Box etc. since the data for those applications already reside in the cloud.
Also see the article "Why Google's enterprise search is on a sunset march to the cloud".
Observations
Google is a cloud company, it doesn't like you to have information in on-premise or private cloud solutions
Supporting an on-premise solution is "strange" for Google.
Enterprise search is hard. Slapping an appliance on to intranets and websites doesn't cut it.
Enterprise search is not Web search. So many other sources and different relevancy models.
The license model of the GSA runs into problems with a large number of documents/records.
Let alone when you want to combine structured info from databases.
Delivering a search experience like Google.com in the enterprise is not possible out-of-the-box.
Google.com has a lot of "application logic" and call-outs to other sources. The thing we see is not only the search engine working.
The GSA is a "relevancy machine". It does not work well with structured content.
To be able to support enterprise search the vendor need to have many connectors to tap into many different content systems.
Google has support for 5 content sources out-of-the-box/provided by Google. Other connectors are delivered by partners and need additional investments/contracts.
To be able to support disperate content systems with different metadata models the search engine needs to have metadata mapping functionality.
The GSA always relied on the quality of content and metadata in indexed content systems. That is not the reality.
Also see the article "Why Google's enterprise search is on a sunset march to the cloud". With a slightly different take on the subject.
Conclusion
Google has proven not to be an enterprise search solution providor. It tried with the Google Search Appliance but it (sadly) failed. The GSA was a good product that fits wel in many areas. But Google is a cloud company an does not have other on-promise solutions.
Google must have come to the conclusion that enterprise search is hard and that the investments doesn't stand up to the profit. Google doesn't expose numbers on revenue on GSA deals, but it must be a small part of their revenue.
The GSA lacks some features that would make it "enterprise ready" and the number of feature requests would give them a work load of years to catch up with the current vendors.
Google is a cloud born company that thinks in large volume of users. Their offerings are all cloud based and focus on millions of users paying a small amount of money on a use base. When operating on that scale minimal margins are OK because of the volume.
Enterprise search doesn't work that way. The license model of the GSA (based on number of documents) holds back opening up large amounts of documents (but that's not only the case for the GSA. Other search vendors also have that model) .
Having said that, there a couple of search vendors that are ready to step up and are going to use the retraction of Google on the enterprise search market as their "Golden egg":
Mindbreeze
Offers an Enterprise Search Appliance. They even offer a solution to migrate from GSA to Mindbreeze Inspire.
The 300+ connectors could be the reason to switch over.
SearchBlox
Long term competitor of the GSA. Offer a similar experience but with more functionality and less cost.
LucidWorks Fusion
The commercial party behind Solr. Solr is the most supported open source search engine in the world with a lot of features. Fusion offers connectors, manageability and data processing at index time to enable advanced search experience.
 This Blog reflects my personal opinions and not that from my employer