Funny when reading the book of Martin White "Enterprise search – second edition" about "Federated search".
He defines "Federated search" as:
…which is an
attempt to provide one single search box linked to one single search application that
has an index of every single item of information and data that the organization has
created.
I have been working in the field of search for a couple of years now. When talking about federated search I do not see this as "one search box with all the information (structured and unstructured) stored in one single index". The fact is that some search vendors/solutions even have something called "search federators". I think about HP Autonomy "federation engine" and the "One Box" feature of the Google Search Appliance (now discontinued).
I think of federated search just as the opposite of that. In a "federated search" environment the essence is that all information is NOT stored in one big index.
Since there are content systems of which you cannot get the info in your "single index" (or only with high costs and security issues) and the fact that some systems have good search functionality by itself, there is a different way of connecting content in "information silo's".
The goal is to present the user a complete insight in every piece of possible relevant information. For that to work, all the info doesn't have to be stored in one single index (the "Hall" approach that Martin mentions and I agree that this does not have to be the goal and even is not realistic).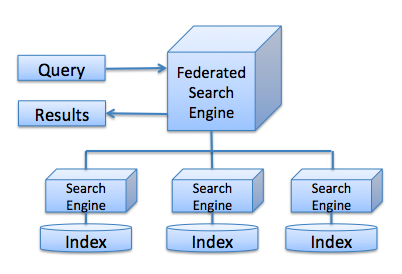 Instead of that, the search application can also reach out to different (search) systems at once providing a query that is distributed over that (search) systems.
The results doesn't have be presented in one single result list. Intelligent and good designed search user interface (or maybe more like a search "portal" in this case) can present the results from the different sources next to each other, using "progressive disclosure" to peruse results from one (search) system one at a time, but in a unified interface.
Wikipedia agrees with me on this:
Federated search is an information retrieval technology that allows the simultaneous search of multiple searchable resources. A user makes a single query request which is distributed to the search engines, databases or other query engines participating in the federation. The federated search then aggregates the results that are received from the search engines for presentation to the user
Of course, Federated search has some very serious disadvantages, but mentioning them is not the goal of this article.
So in my opinion an "Enterprise search" solution can/will consist of a combination of a central index (that will hold as much info as is economically and technically possible) and federated search to other (search) systems to complete the 360 view of all information in an organization.
I just want to get the definitions straight.